Mobile Compatible Websites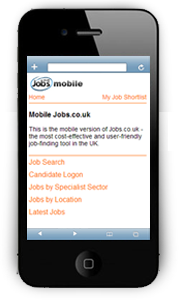 Mobile recruitment website design and mobile website design, also known as "M Sites" is a specialist service, essential for any modern recruitment and general business.
The use of hand held devices and mobile phones has grown dramatically within the last 18 months, and will continue to grow, with new mobile devices being brought on to the market by iPhone, Blackberry, Apple, HTC and RIM.
Some facts taken from the Mobile & Video in Recruitment Conference 2011:
There are 48 Million mobile phone users in the UK.
Over 23 Million browse the web using their mobile phones.
Browsing by phone is growing by 20% every year.
2 Million people use mobile phones to search for jobs.
Research has also shown that mobile jobseekers prefer the following functionality when using a mobile recruitment website:
Job Search
Job Alert Registration
Application Status
Information on the Recruitment Process
CV & Application Tips
Contact Details of Company
Events/News Calendar
Share Page/Site
Share through Social Media

It is therefore essential that:
You embrace mobile recruitment and have your own fully compatible mobile recruitment website.
You have a mobile website that includes the above functionality.

Most websites, however, are not totally mobile compatible and are difficult to use on a mobile device. It is, therefore, imperative that any forward looking business has it's own mobile compatible website.
We have developed a fully mobile compatible website, which can be used by any business offering a product, service or recruitment services. In our mobile recruitment website system, candidates can search throught the jobs database, add the jobs to a job basket and make online applications as long as they have a CV with their online account.
Visit the following mobile sites:
m.jgarecruitment.com
mobile.journalonline.co.uk/
www.jobs.co.uk/mobi
www.wazobiajobs.com/mobile
www.woodland.co.uk/mobile/
www.ttcs.co.uk/mobile/